Penguin March at the Kansas City Zoo
February 25-26, and March 4-5 are the last times to see the Penguin March at the Zoo!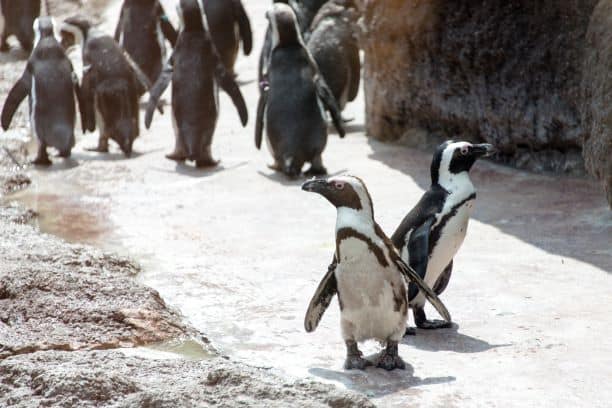 This special experience is included FREE with your admission to the Kansas City Zoo.
At 11 a.m. the birds strut around the Helzberg Penguin Plaza offering you up-close opportunity view them in action. Their stroll takes about 15 minutes.
Penguin March Schedule for 2023
Penguin marches are currently scheduled for the following dates:
Fun Facts About Penguins at the Kansas City Zoo
According to zoo's website, the warm weather loving Humboldt penguin is native to the desert coast of Chile and Peru. These birds have special heat dispersing skin patches near their beaks that allow them to live in such a warm environment.
The cold weather King penguin is the second largest kind of penguin and is native to the outlying islands which surround Antarctica. These birds are around three feet tall with their striking golden chest plumage.
Kansas City Zoo Parking and Location
The Kansas City Zoo is in Swope Park with easy access from I-435 and 71 highways at 6800 Zoo Drive, Kansas City, MO.
Parking is always FREE at the Kansas City Zoo. There is a drop-off zone located directly in front of the Zoom's admission area. 
The #18 Indiana bus stops at the front entrance of the Zoo seven days a week during normal hours of operation. Find more information about bus schedules on the RideKC.org website.
When
Daily @ 11:00 am (February 25, 2023 – February 26, 2023)
What
Penguin March (free w/ admission)
Where
Kansas City Zoo
6800 Zoo Drive
Kansas City,MO64132
When
Daily @ 11:00 am (March 4, 2023 – March 6, 2023)
What
Penguin March (free w/ admission)
Where
Kansas City Zoo
6800 Zoo Drive
Kansas City,MO64132
More Free & Cheap Options