Limited Time: Sonic Drive-In Offering $2 and $3 Value Menu
Sonic Drive-In has many items many people crave. But getting them a deal tastes even better! 
The popular fast-food restaurant introduced a new limited-time value menu — Under $2 & $3 Craves.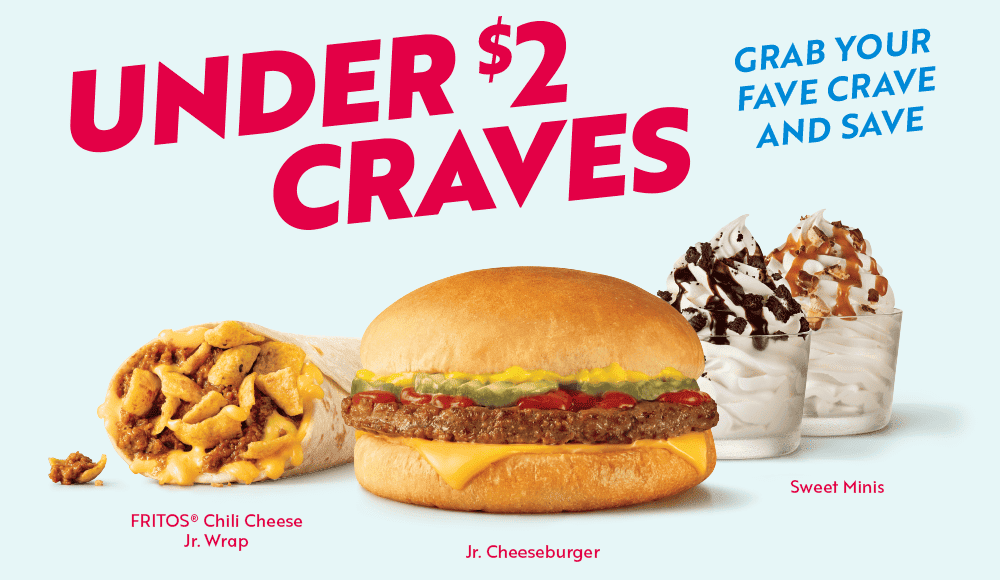 Image: Sonic Drive-In
Customers can enjoy items from the Under $2 & $3 Craves menu any way they want. 
Choose from the following items or mix and match: 
Under $2
Jr. Cheeseburger – A 100% all-beef patty, melted American cheese, crinkle-cut pickles, ketchup, and mustard, served on a toasted bun.
Fritos Chili Cheese Jr. Wrap – Crunchy Fritos corn chips, warm chili, and melted cheddar cheese in a warm 8-inch flour tortilla.
OREO Cookies & Chocolate Sweet Mini Sundae – OREO cookie pieces and chocolate syrup.
Snickers Bars & Caramel Sweet Mini Sundae – Snickers pieces and caramel syrup.
Under $3
Quarter Pound Double Cheeseburger – Two (2) 100% pure beef patties layered with two slices of melted American cheese, pickles, ketchup, and mustard, served on a toasted bun.
Chili Cheese Coney – An all-beef hot dog topped with warm chili and melted cheddar cheese, served in a warm bakery bun.
Chicken Slinger – All-white meat chicken, crinkle-cut pickles, and mayonnaise, served on a warm brioche bun.
This is available at participating locations — from Jan. 3 to March 26 while supplies last. Customers can order online via Sonic's site or app upon arrival. Click here for locations by state. 
This post appeared originally on Living on the Cheap.