Kansas City Super Bowl Watch Parties and Dine-In Specials
Looking for a place to watch Super Bowl 2023 with other excited Kansas City Chiefs fans?
We've found some Super Bowl watch parties in Kansas City where you can enjoy the game without sending your bank account into the red. After all, the only red we want to see on Super Bowl Sunday are the Chiefs players in the end zone!
Some of these are actual watch parties that include food or reserved seating. Others are game day bar and restaurant food and drink specials available while watching the Super Bowl.
All of these take place on Sunday, Feb. 12, but a few events happen earlier. We recommend you follow the links and read carefully for all details about specific events.
Check back because we'll add more Kansas City Super Bowl watch parties and specials all week.
Also, if you're hosting a party at home or headed to someone else's Super Bowl Party check out our post Kansas City Super Bowl Food and Drink Specials for savings on carry out or other fun Super Bowl food.
Go Chiefs!
Kansas City Super Bowl Watch Parties
54th Street Grill: Dine in during the Super Bowl at any of the eight 54th Street Grill locations in Kansas City and you'll enjoy some great food and drinks at great prices. 54th Street Grill has locations at:
1307 South 7 Highway, Blue Springs, MO
12130 South 71 Highway, Grandview, MO
18700 East 38th Terrace S., Independence, MO
7200 NW 86th Terrace, Kansas City, MO (Zona Rosa)
303 NE Englewood Road, Kansas City, MO (Creekwood Commons)
9251 NE Barry Road, Kansas City, MO
815 SE 3rd Street, Lee's Summit, MO
14750 South Harrison Street, Olathe, KS
Artego Pizza: $20 ticket and the party starts at 5 PM. They'll have their famous $20 all-you-can-drink special through the entire course of the game. (food and drink not included in ticket price)
Ticket includes:
Entrance into venue and seat
Tickets do not include:
Drink Special or Food
Brew Lab: Their famous nachos are only $5 for happy hour size, or $10 for a full size. Add chicken, pork or tofrito for only $2 more!
Plus, all-day happy hour specials…email melissa@brewlabkc.com to reserve your spot! Dine in only! 
Brewery Emperial: This local craft brewery is celebrating two things this week—the Kansas City Chiefs playing in the Super Bowl and their sixth anniversary. Check back for food and drink specials! 
Chicken N Pickle: Bring the pickleball paddle and grab some beers. With tons of TVs, there isn't a bad view in the house. 
Classic Blends Cigar & Coffee Lounge: $30 for your ticket. The ticket includes your meal, and there will also be music, prizes, and of course the Big Game on TV! Starts at 4 PM. 
Menu includes:
Sloppy Joes
Chicken Wings
Meatballs
Lit'l Smokies
Veggie Trays with Spinach Dip
Fruit trays with Cream Cheese & Marshmallow Dip
Rotel Dip and Tortilla chips
Buffalo Chicken Dip and Crackers
Mac N Cheese
Dave & Buster's:  Ticket purchase required, and doors open at 4:30. Admission includes access to a SUPER delicious appetizer buffet, mouthwatering dessert, unlimited soda, premium seating with great views, plus opportunities to WIN all day long. 
DeJa Vu Event Space: $20 per ticket, and the event will cover games, food, door prizes, music, and a cash bar. Starts at 4 PM.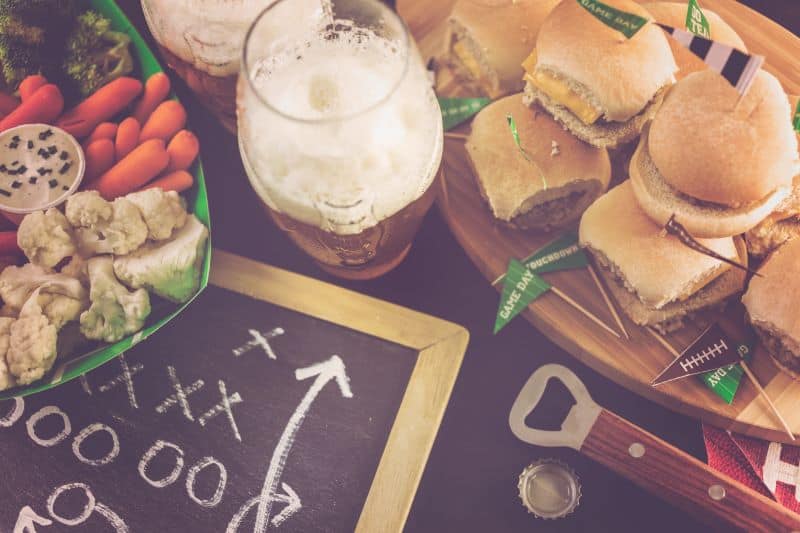 Hollywood Casino at the Kansas Speedway: Big Game Buffet that includes wings, sliders, nachos, jalapeno poppers, pretzel bites, and more. Soft drinks are included. Alcoholic beverages available for purchase.
$30pp, doors open at 4:30 pm. Seating is limited. Must be 21 to enter. 
KC Live Block: The Power & Light District is hosting a massive open-air watch party at KC Live Block that starts at noon. Entry is $10. Several adjoining bars and restaurants offer specials, reservations, and good times for the Super Bowl. Check out our post for more details.
Lakewood Local: This Lee's Summit bar is hosting a Super Bowl watch party for $49 per person. This includes any food or beverage items; does not include tax and gratuity.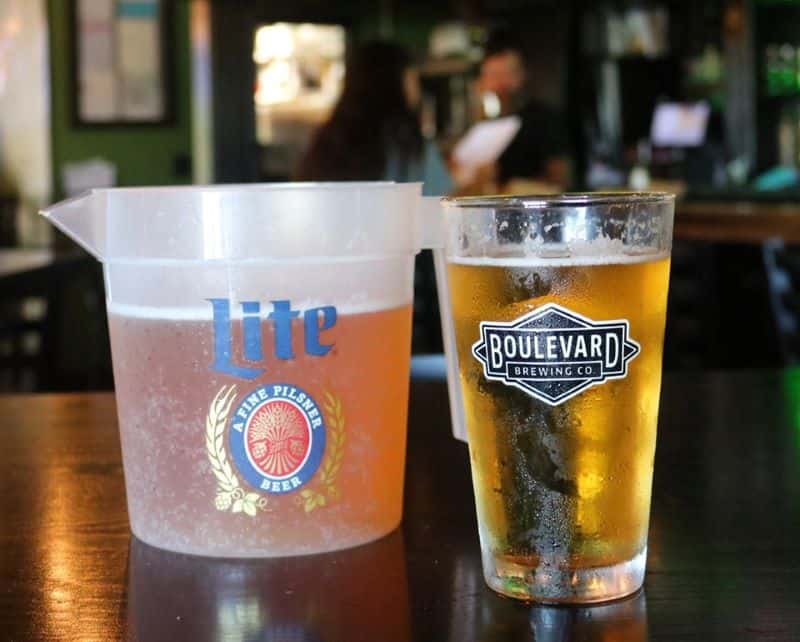 Summit Grill: Summit Grill is having a brunch menu, and then closing at 3 PM so that the staff can cheer on the Chiefs! 
PH Coffee: Free and family-friendly. Starts at 5 PM – 10 PM. Bring the family and cheer on your Kansas City Chiefs. We will have the projector on our massive 8ft x 10ft screen.
Free Popcorn
Beer Specials
Chili and Nacho Bar
Kids zone open entire game
Super Bowl Party with 3Halves Brewpub & BBQ WolfePack BBQ: Tickets are $50. WolfePack BBQ and 3Halves Brewpub & BBQ are smoking a whole hog as well as serving smoked southwest-style chuck for the main course taco bar.  A whiskey-tasting flight put together by Ethan Bunce of Brown-Forman and one beer from 3Halves is also included in the ticket price. 
The Haven Superbowl Party: Party starts at 4 PM. Tickets are $25. Enjoy an open bar, pizza buffet, & state-of-the-art lighting & Bose sound!
Third Street Social:  Take a look at their full happy hour menu here.
Tom's Town Distilling Co.: The people are thirsty, so Tom's Town will have happy hour specials all day! You can watch the game on the big screen in the Pendergast Lounge.
More Free & Cheap Options